Music Tech Masterclass with SK Shlomo
November 19, 2020 @ 8:30 pm

-

January 14, 2021 @ 10:00 pm
Monthly online sessions revealing the secrets of the trade with SK Shlomo, world looping champion, award winning DJ & beatboxer-producer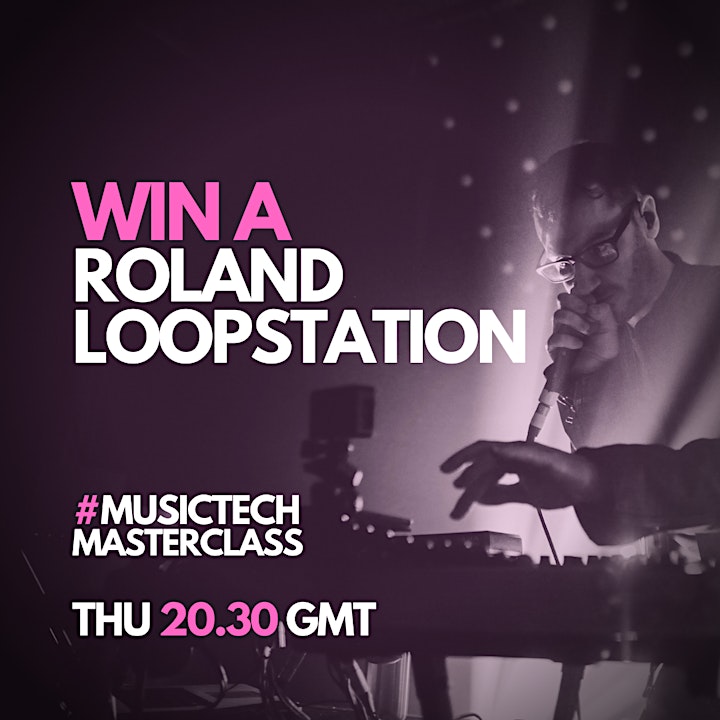 🎤 Learn from a world champion how to create your own sound and style using all forms of accessible music technology, plus win prizes in our monthly creation challenge 🎁 including winning a pair of Yamaha HS Studio Monitors or a Roland Loopstation.
The Masterclasses are also being broadcast in a public livestream but there are limited ticketed spaces to join the Zoom-Room & participate directly in the masterclass on-screen.
🗓 Thu 19 Nov: Part 1 – Studio & kit walkthrough + win a pair of Yamaha HS studio monitors
🗓 Thu 17 Dec: Part 2- Deep dive into live looping, live streaming and live performing + win a Roland Loopstation
🗓 Thu 14 Jan: Part 3 – Customising your workflow and creative toolkit
Who is this for?
These exclusive online masterclasses are for anyone aged 12+ who wants to learn how to use technology to create music. Choir members, vocalists, singers, beatboxers, or anyone with an interest in producing music or exploring live looping.
Do I need any experience?
No previous experience is necessary
Do I need any equipment?
All you need is a device that can run Zoom. We will be learning how to use accessible tools like Apps and computer software, as well as going deeper with more customised tools. If you have any music tech equipment that you would like to learn more about using, bring it to the session.
Will the event be available to rewatch afterwards?
The Masterclasses will be livestreamed on SK Shlomo's social platforms and anybody can watch or re-watch these for free at any time.
Will I appear on-screen?
Yes – by joining the Zoom Room you will be asked to participate with your camera turned on, and you will form part of the publicly livestreamed broadcast. If you would prefer to learn in private, you can watch the public livestream at any time, but you won't be able to receive personalised tuition.
If you watch the public livestream only, we will not be able to see you and your image will not be broadcast.
By participating in the Zoom Room, you are consenting for yourself, and anyone else appearing on camera, to be broadcast and for recordings to be used in future promotional videos.
If you are below 18 years old, you must have been granted parental permission by a legal guardian giving consent for your image to be broadcast and recorded.
By participating, you will be granting permission that the footage recorded may be edited and published on social media platforms and any other form of media worldwide in perpetuity.
Will the sessions be different every month?
Yes – each session will build on the last.
How do I win the prizes?
Each month SK Shlomo sets a 'creation challenge' to his viewers with a task for you to complete. The best entry will win a prize. No ticket purchase is necessary to take part.
Is the event suitable for kids?
The ticketed Zoom-Room spaces are for anyone aged 12+. The public livestream is open to all ages.
What happens during the Masterclass?
Each Masterclass is a mixture of entertainment and education, including lots of beatboxing, live-looping, audience-sampling and technical demonstration from SK Shlomo. Ticket holders in the Zoom Room are able to shape the content by asking questions and participating in creative challenges on screen. There are lots of engaging exercises, techniques, interactive polls and learning challenges. You'll be invited to create music of your own, with an option to share with the best contributions winning prizes.
How long is the Masterclass?
Approximately 90 minutes but may go on longer if we are all having fun!
I have more questions! Who can I ask?
You can email us any time on [email protected]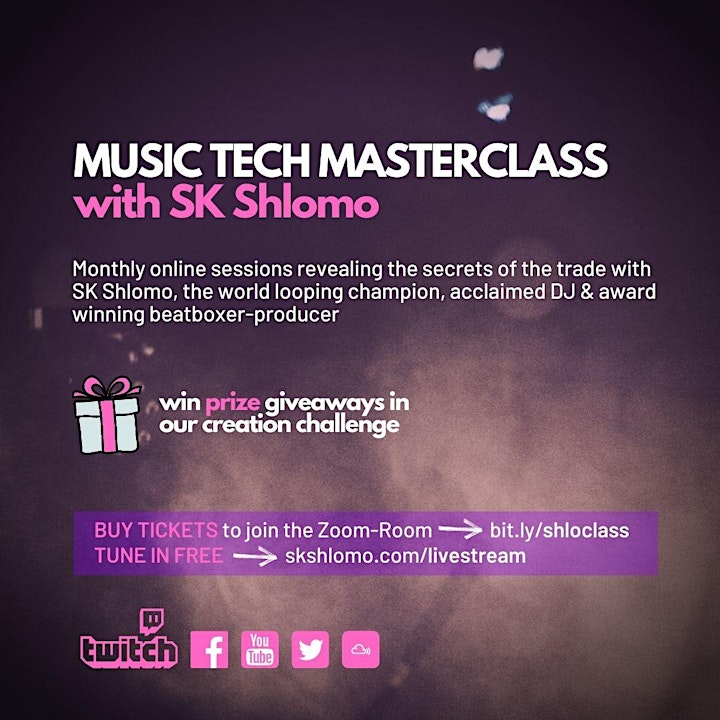 By signing up you will be added to SK Shlomo's mailing list – you can unsubscribe at any time